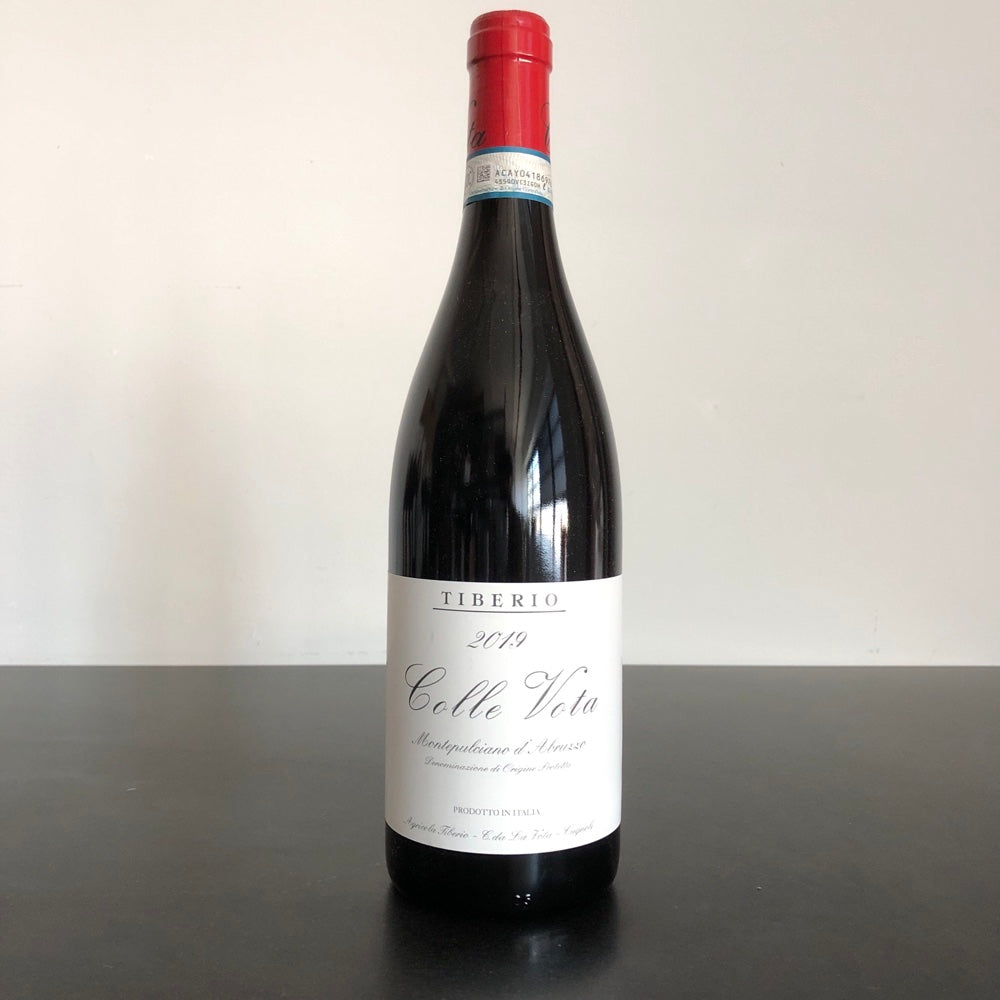 2019 Azienda Vitivinicola Tiberio 'Colle Vota' Montepulciano d'Abruzzo
Colle Vota is not a "Riserva" but is a "Single Vineyard" Montepulciano d'Abruzzo.

The Montepulciano that grows in the Colle Vota vineyard has different characteristics that separate it neatly from all the other Montepulciano we grow in our vineyards at Tiberio. The grape bunches and berries are much smaller, with crunchier and thicker skins.
The Colle Vota Montepulciano also takes longer to mature, and this vineyard's specific microclimate provides a longer hang time, producing a truly unique Montepulciano wine.
Colle Vota vineyard tends to perform amazingly well in especially cooler, even downright rainy vintages
Montepulciano d'Abruzzo wine made from the Colle Vota grapes are uniquely refined and light on its feet, combining elements reminiscent of Burgundy's Pinot Noir and Piedmont's Nebbiolo wines, while maintaining a Montepulciano backbone and soul.
For this reason, we have decided to bottle this wine on its own as it is a unique expression not just of place, but of what the Montepulciano grape variety can deliver.
Planted in 2000 using massal selections from the oldest Montepulciano vineyard on the property.
Original Montepulciano clone adapted to its specific, new environment made up of a different soils, subsoils and microclimate, leading to the development of a new Montepulciano byotipe that expresses itself with a very distinct, more perfumed and refined wine
Soil composition: Limestone, marly-clay over a sandstone-rich bedrock
Vine Training method: Single Guyot
Elevation: 350 meters / 1200 ft
Vineyard Area: 1.6 Ha / 4 acres
Planting Density: 4,000/Ha
Yield: 25 Hl
Exposure: Eastwest
Harvest Notes
Hand harvested the end of October
Fermented using only indigenous yeasts in stainless steel tanks
Malolactic fermentation in tank
Aged in tank
Bottled unfined and unfiltered
Aged in bottle before release
Winemaker's Notes
A brilliant light red ruby color. Intense, expressive, highly complex flavours of yellow peach, sage, cedar, cinnamon, marzipan, spices and soil. Long, deep, creamy, mouthfilling texture with refined, silky tannins and saline character. Finishes with intense energy.
Wine Summary
100% massal selections of Montepulciano d'Abruzzo, transplanted to a higher single vineyard, resulting in a specific biotype uniquely adapted to its microclimate, soils and altitude, uniquely suited to cooler, wetter conditions; 14.5% alcohol; hand harvested late in season – late October; fermented using only indigeous yeasts in stainless steel tanks; malolactic fermentation and aging in tank; bottled unfined and unfiltered; aged in bottle before release.