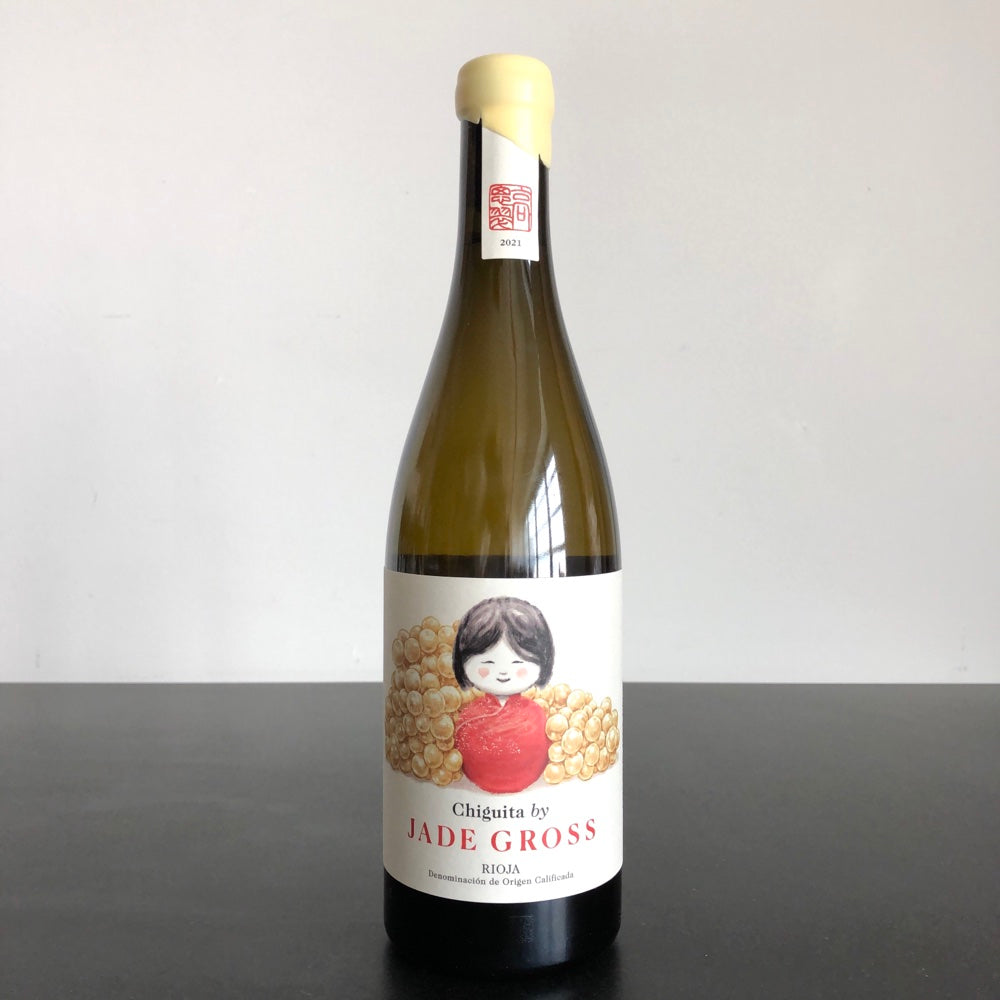 2021 Jade Gross 'Chiquita' Blanco, Rioja DOCa, Spain
Grape variety: Tempranillo Blanco, Garnacha Blanco
Production Volume: 892 bottles (with individual bottle number)
Born and raised in Hong Kong, Jade Gross (高思翠) grew up in an American–Chinese family. She went on to pursue studies in Politics and Human Rights in New York and London but realised that her true passion was to cook. Following her dream in Paris, she attended culinary school and worked in the 3–Michelin starred restaurant, Alain Ducasse au Plaza Athénée. Jade then moved to Spain where she interned at Mugaritz, a 2–Michelin starred restaurant in San Sebastián.
In a period of seven years, she rose to the ranks of Chef de Cuisine by the age of 26 and finally ascended to the R&D department. While at Mugaritz, she visited wineries in La Rioja and was struck by her conversations with Abel Mendoza and his wife Maite Fernández, winemakers in San Vicente de la Sonsierra.
In 2018, Jade left her life as a Chef behind to start a new adventure from scratch. She studied through the WSET and achieved the Diploma. With the support and guidance of Abel and Maite, Jade launched her personal wine project in 2019.
Jade's mentor Abel Mendoza is an icon who represents "the third way" of Rioja. The winery made wines beyond the "Traditionalist and Modernist" debate. Tired of Rioja wines being only focused on aging classifications or aging vessels - being a flavour, not a region; a new generation of winemakers focused instead of making fresh, vibrant wines with a sense of place.
Wine making:
Alto de Najerilla valleym Rioja Alta, La Rioja, Spain. Bush vines over ferrous clay soils.
The rare Tempranillo blanco was discovered in 1988 by a wine grower in a Tempranillo vineyard near in Rioja. While Tempranillo is a dark-skin variety used to produce red wine, the grower discovered that one of his vines had undergone a mutation that produced yellow-green clusters after veraison.
The grapes were hand-harvested in 18 kg crates on September 24th 2021 following a rigorous selection in the vineyard. The wine fermented in French oak barrels and matured on its fine lees for 7 months.